Learn about the latest in bicycle advocacy, safety, education, bike friendly communities, and events in our members' newsletter Upshift. We report on our progress and efforts across the state as well showcase the success stories of local advocates and communities leading the way to a bike friendly Illinois. If you'd like to receive Upshift at your home or office each July, please become a Ride Illinois member today!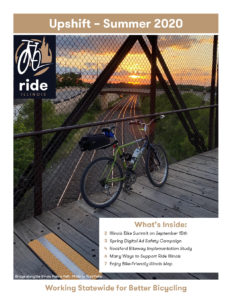 Click to download PDF of 2020 Upshift
Click to download PDF of 2019 Upshift
Ride Illinois also distributes a free monthly e-news including Ride Illinois announcements and information on bike-related stories, events, and advocacy efforts happening throughout the state. Our monthly e-news is open to everybody. Sign up now!