Learn about the latest happenings in bicycle advocacy, safety education, bike friendly communities, and events in our members' newsletter Upshift. Three times a year, we report on our progress and efforts across the state as well showcase the success stories of local advocates and communities leading the way to a bike friendly Illinois. If you'd like to receive Upshift, please become a Ride Illinois member today!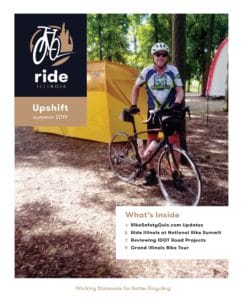 Download the latest issue of Upshift
Ride Illinois also distributes a free monthly e-news including Ride Illinois announcements and information on the most bike related stories, events, and advocacy efforts happening throughout the state. Our monthly e-news is open to everybody. Sign up now!